Peregrine falcon lays egg at Norwich Cathedral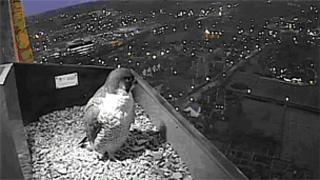 A female peregrine falcon nesting with her mate at Norwich Cathedral has laid her first egg, making them the second pair to breed in Norfolk in 200 years.
The falcon laid her egg on Easter Sunday, after the pair made their home on a special platform on the spire built by the Hawk and Owl Trust.
It had been thought the female was too young to breed this year but she could now lay up to three more eggs.
Once all the russet-coloured eggs are laid, incubation is about a month.
Nigel Middleton, from the Hawk and Owl Trust, said: "The eggs are usually laid two or three days apart so we are watching with bated breath to see what happens next.
"The female will do most of the incubating whilst the male catches food for her.
"Once all the eggs are laid, incubation should take about four weeks, so we will be hoping for chicks at the beginning of June."
Older bird ousted
There have been reports of peregrine falcons on the cathedral spire since 2009.
A male and female made the landmark their permanent home after the platform for them to rest on was built on the spire nine weeks ago.
But a younger female arrived four weeks ago, ousting the older bird, and paired up with the male.
Activity on the ledge is being followed 24 hours a day by two webcams.
Meanwhile, a pair of peregrines nesting on a platform on St John's Roman Catholic Cathedral spire in Bath hatched two chicks on Easter Saturday.
The pair, which returned to the platform for the sixth successive year, laid a clutch of eggs on 18 March.
It is thought they might be the earliest to breed in Britain this year.
Peregrine falcon numbers rapidly declined in the 19th and 20th Centuries due to illegal shooting and use of certain pesticides on farms.
The first permanent recording of a breeding pair in Norfolk for hundreds of years happened last year at a granary site in north King's Lynn.