Fire damages historic row of thatched Norfolk cottages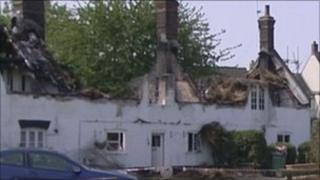 Three families have had to leave their homes after a fire in an historic row of thatched cottages in Norfolk.
More than 50 firefighters were called to The Row in Weeting near Brandon on Sunday afternoon and worked through the night to put out the fire.
Flames spread to three of the 10 houses, said to be England's longest single row of thatched cottages.
Another fire tore through four of the cottages on Easter Sunday in 2007 but they were subsequently restored.
An investigation has begun to establish the cause of the latest fire.
The Grade II listed cottages are believed to date from the 18th or 19th Century.