City College Norwich could cut up to 87 jobs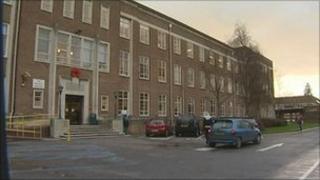 City College Norwich has announced plans to make up to 87 staff redundant as part of a cost-cutting plan.
Forty-eight teaching staff and 39 services staff have been told their jobs are at risk as the college deals with a £2m funding cut this year.
A 32-day consultation period with staff and unions has begun and a recruitment freeze is in place.
The college said that although the cuts were "severe", it had worked hard to minimise the impact on students.
Principal Dick Palmer said: "The harsh reality of cuts in education funding means that we have to cut our cloth accordingly.
"Regrettably this will mean a number of redundancies across the college.
"I am confident that by working with staff and the trade unions we can minimise the number of jobs that will eventually be lost.
"This time last year we announced that around 80 posts were being placed at risk as part of our first wave of cost-cutting and a significantly lower number, 32 staff, were made redundant at the end of that process."
The college, in Ipswich Road, currently employs 993 staff and has more than 14,000 students.