Turkey tycoon Bernard Matthews' £40.5m estate revealed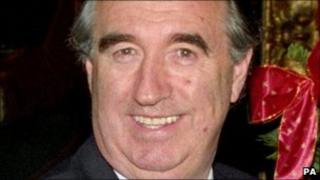 Norfolk turkey tycoon Bernard Matthews, who died last year, has left a personal fortune worth £40.5m.
Mr Matthews owned 39% of Bernard Matthews Holdings and left a 38% stake to his son Frederick Elgershuizen making him the largest shareholder.
A 1% stake has gone to his former personal assistant, Carolyn Claussen.
Mr Elgershuizen, from Holland, is the son of the late Cornelia Elgershuizen who Mr Matthews had a relationship with, a company spokesman said.
Mr Matthews began his turkey meat business more than 60 years ago - with 20 eggs and a second-hand incubator.
Mr Matthews, famous for his "bootiful" catchphrase, stepped down from the company's main board of directors in January 2010 on his 80th birthday. He died on 25 November.
Mr Matthews' widow Joyce, who helped start and develop the company already had a 32% share in the turkey meat producer.
Mr and Mrs Matthews lived apart for 35 years, but remained married.
Existing and past management hold 6% with 24% of Bernard Matthews Holdings in family trust.
Mr Matthews' long-term partner Odile Marteyn will inherit £1m.
In a company statement the chief executive of Bernard Matthews, Noel Bartram said: "The company continues to be a family-owned business, managed by its board in the interest of all its shareholders.
"The board continues to implement its strategy of growing the business by focusing on increasing turkey consumption in the UK."