RSPCA bird of prey rescue aviary opens in Norfolk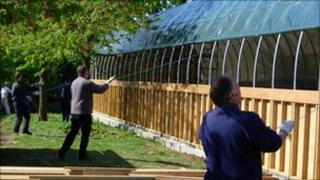 One of the UK's largest rescue centres for birds of prey has been opened in Norfolk by the RSPCA.
Large, injured birds of prey such as marsh harriers and buzzards will be able to fly inside the new "flight aviary" while they recuperate.
The structure is 96ft (29m) long, 20ft (6m) wide and 16ft (5m) high.
It had to be built in America and then shipped to the RSPCA's East Winch wildlife centre near King's Lynn.
The aviary features CCTV cameras which will capture the rescued birds' flight in slow motion.
"At the moment we have to use a potato barn in order to give birds such as Marsh Harriers enough exercise before release," said Alison Charles, centre manager.
"We are over the moon to have this fantastic new facility."
Bird casualties
The aviary is the realisation of a decade-long dream for the RSPCA at East Winch and was built with a donation from the Katherine Martin Charitable Trust.
"Since the centre opened in 1992 we have cared for 4,769 birds of prey and thousands of other birds," said Ms Charles.
"Once they have been rehabilitated we need to be sure the birds are capable of strong, straight flight before we release them. If a bird cannot fly well they may not be able to hunt and could starve."
Birds make up 80% of casualties at East Winch, although hedgehogs, seals and otters are also regular visitors.
The centre rescues and rehabilitates a wide range of species of British wildlife.
Rescues often involve animals that have been hurt in an accident, such as being hit by a car, or trapped in netting or litter.