Domesday Reloaded: Add to Norfolk's history archive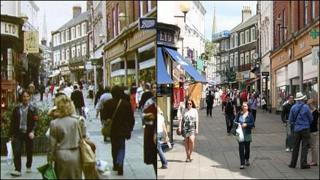 Do you remember how your town or village looked 25 years ago?
Do you have a valuable piece of Norfolk knowledge from today that you would be willing to share with millions of people around the world?
Then we want to hear from you.
Domesday Reloaded revisits a BBC project that used the help of the British public back in 1986 to record a glimpse of life in the UK.
Twenty-five years on we want you to record the next snapshot in Norfolk to see what's changed and what's stayed the same.
The original Domesday data collated from the 1980s has been digitally restored onto the internet for all to see and can be found on the Domesday Reloaded website.
It contains articles and pictures from all around the county at the time where a "good semi-detached house" in Norwich cost just £30,000 and gardening and knitting were "common hobbies" in Newtown in Great Yarmouth.
If there is anything you think could be added to the archive simply visit the website, search for where you live, click on the shaded "D-block" in your area and select "update this article" or "update this picture".
We will then do the rest and publish the results.
If you recall taking part in the original project, maybe at school or by popping into the BBC in Norwich, then get in touch and share your story by e-mailing norfolk@bbc.co.uk