Sheringham helpers to root out problem rhododendrons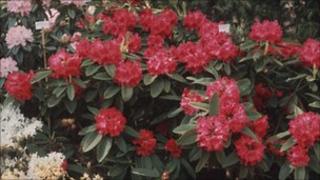 A National Trust park in Norfolk is drafting in volunteers to uproot a toxic plant taking over its grounds.
Wardens at Sheringham Park are asking people to help pull up rhododendrons.
The exotic rhododendron poniticum species was a favourite of Victorian garden and park designers, but its invasive nature destroys native plants.
It also harbours diseases which harm trees which is why volunteers are being asked to turn out for a day of action on 10 July.
"It's a beautiful plant in itself but it tends to spread rather quickly," said warden Rupert Eris.
"We have to keep it in check in the wild garden area and prevent it from just scrambling over and killing all the other interesting plants we have."
Each flower can produce between 3,000 to 7,000 seeds, accounting for its rapid growth at Sheringham Park, which was designed by the famous landscape gardener Humphry Repton.
The plant, which has bright pink, crimson and purple blooms, is believed to have been introduced in the UK during the late 18th Century.
People who want to help at Sheringham Park can gather in the main car park at 1000 BST on 10 July. Tools and gloves are provided but a sturdy pair of boots and gardening clothes need to be worn.