Council spends more than £1m to buy Diss shops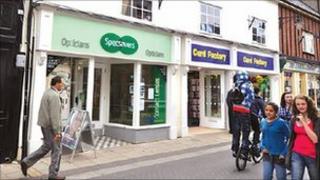 A Norfolk council has revealed plans to invest up to £8m of taxpayers' money in commercial premises in the district.
South Norfolk Council denied its strategy to convert a third of its £25m core investments from cash to commercial property was risky.
The council said it had recently bought two shop premises in Mere Street, Diss, for just over £1m at public auction.
The Conservative leader of the council John Fuller said the strategy would create jobs and increase returns.
Mr Fuller said: "It would be risky in a time of high inflation if we had all our investments in cash.
"It would be equally risky if we had it all in property.
"The key thing is to get the mix right and if we can do that as well as support the local economy and provide the infrastructure where jobs can be created and sustained that's the right thing to do."
The council said it had already successfully invested in starter units for small businesses in Loddon.
It has also invested £250,000 in the Genome Analysis Centre at the Norwich Research Park and £330,000m in extending the Hethel Engineering Centre.