Champion amateur female jockey hurt in Fakenham fall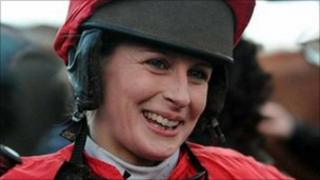 A champion amateur jockey is in a critical condition in hospital after a fall at a racecourse in Norfolk.
Wales' Isabel Tompsett, 28, was thrown off her horse during a race at Fakenham racecourse on Sunday afternoon.
Ms Tompsett, a champion female amateur over jumps in the 2009 to 2010 season, was taken to hospital with serious head injuries.
In a separate incident, jockey Nick Schofield was taken to hospital with a suspected broken leg and hand.
Ms Tompsett, from Llandeilo, Carmarthenshire, was riding Leopold for trainer David Thompson.
He said: "As far as I know she stopped breathing twice and needed to be resuscitated.
"At the minute she is stable and breathing of her own accord. It's a very worrying time."
Lisa Hancock, chief executive of the Injured Jockeys Fund, said: "Isabel was transferred last night to the neuro-trauma high care unit at Addenbrooke's Hospital in Cambridge.
"She is in a critical condition but will receive the best care possible at Addenbrooke's. Her mother and family are with her."
Racing trainer Tim Vaughan said the racing fraternity was supporting Isabel and her family.
"Seeing someone like Isabel who we all know in Wales...in this sort of condition is absolutely frightening," he said.