Freezer murder landlord Michael Tucker jailed for life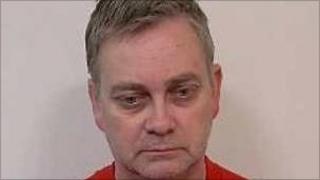 A pub landlord who shot his partner in the head and hid her body in a freezer has been jailed for life with a minimum tariff of 26 years.
Michael Tucker, 50, shot Rebecca Thorpe at The Compasses, Snettisham, near Hunstanton in Norfolk, in March 2010.
He told police she controlled his life and had even tried to stop him seeing his children from a previous marriage.
At Norwich Crown Court Tucker admitted killing Miss Thorpe, 28, but denied murder.
Sentencing him, Mr Justice Nicol said: "You have been convicted of murdering Rebecca Thorpe.
'Meant to kill'
"She was lying in the bath with her back to you. You got a shotgun, which was nearby. You fired it at the back of her head.
"The end of the barrel was no more than two and a half feet away from her when you pulled the trigger. The jury's verdict means they were sure you that you at least intended to cause Becky really serious harm.
"But, since you intentionally shot her in the head at close range, in my view the only proper inference is that you meant to kill her."
He said witnesses had described Miss Thorpe as a "kind and bubbly" person. She was a keen and talented hockey player.
"Your act cut short that life," the judge added. "Her death has been a tragedy for her family and friends."
'Bubbly' woman
Tucker, who ran the pub with Miss Thorpe, shot her with the .410 shotgun as she lay in the bath on 9 March last year, the court heard.
He then left her body in the bath for two days before moving it to a freezer in an outbuilding and continuing to run the pub as normal.
He later went on the run to Hampshire and the Isle of Wight, where he was arrested.
In interviews he told police he "snapped" when Miss Thorpe told him she was seeing someone else.
Miss Thorpe's family said in a statement: "Becky was a bubbly, sporty young woman whose life was callously and clinically taken from us.
"Though now at rest, Becky's name and memory will continue with charitable events organised in her name.
"We would like to thank the legal teams and jurors for ensuring that Mr Tucker received the sentence that he deserved, despite his feeble attempts to escape the full responsibility for his actions."