Norwich beer festival aims to revive interest in pubs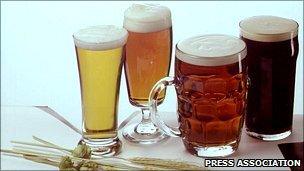 Organisers of a new beer festival hope it will help to recover public interest in Norwich's pubs and buck the trend of people drinking at home.
City of Ale, organised by Philip Cutter, landlord of The Murderers in Timber Hill, will feature more than 200 local beers available in 31 pubs.
Mr Cutter said: "During these difficult times it's important to try to get people back into the pub."
The festival runs for 10 days, from Thursday until 5 June.
Mr Cutter said: "The beauty of real ale... is that you can't replicate it in bottles and supermarkets."
Norwich is reputed to have boasted a church for every Sunday of the year and a pub for every day, but now has only about 130 pubs.
However, Mr Cutter says the knowledge and sense of history have remained strong.
"Around 30 years ago Norfolk had no brewers left once the big multi-national companies came in and bought out all the local brewers. Norfolk was left as a beer desert.
"Norwich and Norfolk has always had a great heritage of brewing and brewing traditions.
"It also has a great heritage of pubs and publicans.
"The traditions have kept hold in Norfolk and we now 37 fantastic brewers."
Related Internet Links
The BBC is not responsible for the content of external sites.