Youth bowls team for Clenchwarton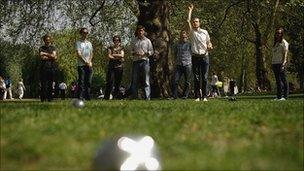 A bowls club for young people has been launched in a west Norfolk village.
Youths aged between 10 and 16 in Clenchwarton are being encouraged to take up the sport which is often seen as a pastime of retired people.
Mary Bruce, who chairs the senior club, has received £350 from West Norfolk Sports Council and the village parish council to set up the group.
"Bowls is too often seen as an older person's sport, but it's not," said Mrs Bruce.
"We already have four teenagers playing regularly in our senior club and I think there is a lot more new talent in the area."
Mrs Bruce decided to start the team after the sport proved popular with youngsters when a sport roadshow visited the rural village last summer.
The grants have paid for the equipment so youngsters can try the sport without having to buy their own set of bowls.
The club will meet on Thursdays at Clenchwarton playing field between 1830 and 1930, with coaching by senior team members.
Related Internet Links
The BBC is not responsible for the content of external sites.