Scumbag Philosopher to open shows for The Fall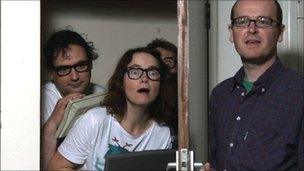 A Norwich band have been picked to warm up at two gigs by a cult music figure.
Scumbag Philosopher will support Mark E Smith's group The Fall at their shows in London and Manchester next week.
The opening slots come as the Norfolk post-punk band - heavily influenced by the Manchester-based outfit - gear up to release their album on 13 June.
"As a big fan of The Fall, I'm pretty excited about it all," said bassist Adam Green.
"However, I'm a little bit apprehensive about what other fans of The Fall are going to make of us - they're a pretty partisan bunch."
Mark E Smith put together The Fall in 1976 and they're widely regarded as helping to shape the sounds of a number of indie-rock acts including Franz Ferdinand and Sonic Youth.
The long-running band have been prolific with 28 studio albums in their back catalogue, despite numerous line-up changes forced by Smith, who is renowned for his ill-tempered interviews.
But Scumbag Philosopher - which also features vocalist Grant Madden, guitarist Jon Burker and drummer Anne Reekie - are putting any apprehension aside based on experience.
"A previous band that I was in supported The Fall many years ago so I've already encountered him and he was perfectly civil to us," said Adam.
The Norwich four-piece plan to fill their set with tracks from their debut long-player It Means Nothing So It Means Nothing including their first single God is Dead So I Listen to Radiohead, which came out on 23 May.
Scumbag Philosopher are next due to play a home gig at Glade Festival at Houghton Hall, near King's Lynn, on 11 June.
Related Internet Links
The BBC is not responsible for the content of external sites.