Fakenham fall jockey Isabel Tompsett shows improvement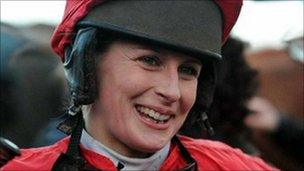 A champion amateur jockey badly hurt in a fall at a racecourse in Norfolk is showing signs of improvement, her family said.
Isabel Tompsett, 28, from Llandeilo, Carmarthenshire, was thrown off her horse during a race at Fakenham last Sunday.
Ms Tompsett, a champion amateur over jumps in the 2009 to 2010 season, was taken to hospital with head injuries.
Although still unconscious, she is no longer being medically sedated.
Her family travelled from Wales to be at her bedside at the specialist unit in Addenbrooke's Hospital in Cambridge.
Lisa Hancock, chief executive of the Injured Jockeys Fund, said: "The family were able to have a lengthy conversation with one of Isabel's doctors... and were reassured to hear that she is showing some positive signs.
"She is able to move all her limbs independently. The whole family have been amazed at the level of support they are receiving from the whole racing community."
Related Internet Links
The BBC is not responsible for the content of external sites.