Superfast broadband verdict 'historic' for Norfolk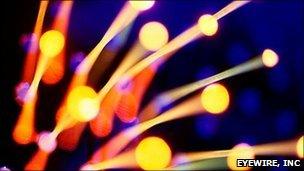 The decision for Norfolk to have a £60m superfast broadband network by 2015 has been described as "historic" by the leader of the county council.
Derrick Murphy welcomed the government's decision to match the council's £15m bid for the network, with private firms set to add £30m.
Norfolk was one of only four counties to be given government funding due to its rural location and slow speeds.
"It's a fantastic day for Norfolk," said Conservative Mr Murphy.
"It's what we've been crying out for in this county for ages and it is a truly historic day now that we've got it," he added.
Other counties to receive an share of £49m funding from Broadband Delivery UK (BDUK) are Wiltshire and Devon and Somerset, which launched a joint bid.
Currently more than 50,000 homes and businesses in Norfolk are in broadband "not spots", having no broadband access or experiencing speeds of less than 2Mbps (megabits per second), Norfolk County Council said .
It promised every property in Norfolk could access a minimum connection of 2Mbps by 2015 and superfast broadband would be available for most of the county.
Superfast internet would be at least 10 times faster.
Independent research carried out by SQW consultants predicted the superfast rollout could bring an extra £401m into the Norfolk economy by 2025.
It also shows that about 1,330 jobs could be created.
Chris Starkey from Shaping Norfolk's Future said the news was "at least as important as the A11 dualling" and would benefit "thousands of businesses, schoolchildren and older people".
Caroline Williams, chief executive of Norfolk Chamber of Commerce, said she believed the pledge would "help people to embrace new technologies" and "help the economy at a time when we really need it".
Sarah Lee, head of policy for The Countryside Alliance Foundation, said: "We welcome this new funding package but it is important that there is competitive rollout of broadband services."
The government said it wanted to make the UK the best place for superfast broadband in Europe by 2015.
Related Internet Links
The BBC is not responsible for the content of external sites.