BBC Radio Norfolk's choir competition entrants judged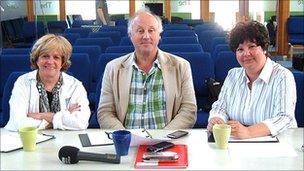 The eight finalists in BBC Radio Norfolk's Choir of the Year competition are awaiting the judges' decision after their final performance on 21 May.
The search for Norfolk's best choral group is the brainchild of Sunday Breakfast presenter Emma Philpotts.
Panellist the Venerable Jan McFarlane said: "The standard of all the finalists was very high indeed."
Judging took place at the Norwich Central Baptist Church and the winner will be announced later in the year.
The victorious ensemble will perform at a Christmas carol concert in Norwich Cathedral on 5 December 2011, and at Norwich Theatre Royal's Christmas Eve show at St Peter Mancroft church in Norwich.
With such a high standard of entries Jan McFarlane admits it was hard to single out a winner.
"We had a very difficult job to decide who should win," she said.
"We tapped our feet and sang along, and listened intently, and in the end, the three of us came to a decision.
"But we know that listeners will really enjoy hearing all the choirs on the radio in the autumn."
BBC Radio Norfolk's morning presenter Helen McDermott and Peter Wilson, chief executive of Norwich Theatre Royal were also on the judging panel.