Hunstanton tribute unveiled to Richard Searle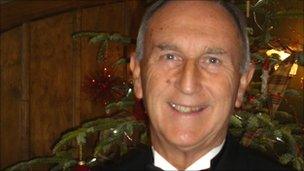 A memorial to a Norfolk businessman and councillor has been unveiled.
A bench in Hunstanton has been dedicated to Richard Searle, chairman of Searle's Holiday Resort, who died in March aged 66.
The tribute is part of a £136,000 facelift at Seagate to provide new paving, lighting, trees, traditional seating and an information board.
Councillor Elizabeth Watson said: "We are delighted that it has been completed in time for the main season."
A further seat has been dedicated to the memory of Mr Searle's parents, Geoffrey and Margaret, who set up Searle's Sea Tours.
"Searle's has been influential in Hunstanton for many years, and their passion and dedication has helped to ensure that the town has continued to grow and develop and that visitors continue to visit each year," said Ms Watson.
The improvement scheme was officially opened by MP Henry Bellingham on Wednesday.
Related Internet Links
The BBC is not responsible for the content of external sites.