Lotus Group cuts back office jobs at Norfolk base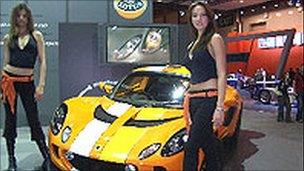 Lotus Group, which builds sports cars in Norfolk, is planning to axe back office jobs to "boost efficiency".
The company, based at Hethel near Norwich, will not confirm numbers but staff have had a letter asking them to volunteer for redundancy.
"As an important part of Group Lotus evolution, we are undertaking an efficiency review," a spokesman said.
"Part of this review is a restructuring of back-office functions leading to a loss of some positions," he said.
The company is still planning to expand and the spokesman said the job cuts were being made "ahead of a recruitment programme in the near future".
"Going forward we have the means to create new jobs as we move towards production in line with our business plan."
Related Internet Links
The BBC is not responsible for the content of external sites.