Star Trek star Patrick Stewart to get honorary degree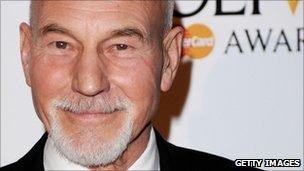 Award-winning actors Sir Patrick Stewart and Juliet Stephenson are to be awarded honorary degrees from the University of East Anglia (UEA).
Oscar-winning director Richard Eyre, ex-Norwich North MP Dr Ian Gibson and Norwich-based Aviva UK chief executive Mark Hodges will also gain degrees.
The honorary degrees will be awarded at this year's graduation ceremonies, which take place from 19 to 22 July.
In total 14 people are to receive honorary degrees.
Other recipients will include distinguished plant scientist David Baulcombe, BBC Choir boy Gareth Malone, Olympic medallist Emma Pooley, and natural history broadcaster Richard Mabey.
'Remarkable contribution'
Others receiving the award including microbiologist Prof Sir John Bering, UEA graduate Tito Mboweni who is the former governor of the South African Reserve Bank, Prof Eric Fernie, a former director of the Courtauld Institute of Art and dean of UEA's School of Fine Arts and Music, literary critic Prof Terry Eagleton and historian Dr Zara Steiner.
UEA registrar and secretary Brian Summers said: "We present honorary degrees to those who have made a remarkable contribution to the arts, science, sport, and civil society."
Sir Patrick, who was appointed an OBE in the 2010 New Year honours, is best-known for his film roles as Captain Jean-Luc Picard in Star Trek: The Next Generation and Professor Charles Xavier in the X-Men film series.
As well his leading film roles, he has had a distinguished career in theatre and television for about half a century.
He joined the Royal Shakespeare Company (RSC) in 1966 and has appeared in more than 60 RSC productions - most recently as Claudius in Hamlet in 2008.
He will receive an Honorary Doctorate of Letters.
Actress Juliet Stephenson is best known for her leading role in the film Truly, Madly, Deeply as well as roles in Emma and Bend It Like Beckham.
She receives an Honorary Doctorate of Letters.
Related Internet Links
The BBC is not responsible for the content of external sites.