Incinerator plans submitted to Norfolk County Council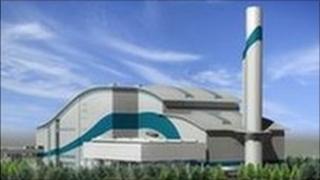 A planning application has been submitted for a controversial waste incinerator scheme in west Norfolk.
A formal six-week-long, county-wide public consultation on the plans for the Willows business park, Saddlebow, King's Lynn will begin next week.
Norfolk County Council confirmed it had received an application from Anglo-American firm Cory Wheelabrator.
A week ago campaigners against the incinerator served notice of a judicial review on the county council.
The council said the normal period for commenting on planning applications was 21 days.
But it said given the number of people who had already registered an interest in the application, it had decided to extend the consultation period to six weeks.
'More opportunity'
The formal consultation will run from 22 June until 3 August.
The council's cabinet member for planning and transportation Graham Plant said: "There are clearly defined rules relating to all planning applications and this application is no exception.
"Having said that, the county council has looked carefully at the period we are legally required to consult for and feel that given the amount of interest we should extend the consultation period.
"In fact we have doubled it to give people more of an opportunity to make their views known."
People will be able to make their views known online, at a series of drop-in sessions at local libraries and by e-mail and post.
A separate application is required for an environmental permit and this application will be made by Cory Wheelabrator to the Environment Agency.
The environmental permit application deals with pollution control measures, while the planning application process looks at whether the use is acceptable in land use planning terms.
The Environment Agency will be undertaking a separate consultation regarding the permit application.