Samson and Hercules House in Norwich to be auctioned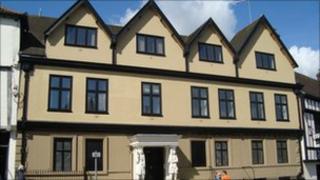 A well-known building in Norwich is to go under the hammer later this month.
Samson and Hercules House in Tombland was turned into a ballroom after World War II before becoming a nightclub.
Statues representing Samson and Hercules stand at the entrance of the timber-framed building, constructed around 1657 by the then Norwich mayor.
The building's ground floor and basement are being auctioned on 24 June, with planning consent in place for use as a restaurant or cafe.
Generations of Norfolk couples went dancing at the club, which was last known as Ikon before its closure in 2004.
"A lot of people who have come to view are very familiar with its former life as Samson and Hercules and also more recently as Ritzy's nightclub," said Craig Knights, auction manager at Arnolds.
"There are certain buildings around Norwich which everybody knows and Samson and Hercules House is one of those."
Ghostly apparitions
After the night spot shut its doors, the property's upper floors were redeveloped into four flats which means it will never welcome clubbers again.
The ancient building is believed by some people to be haunted, with some potential buyers sure that it is home to ghostly apparitions.
Mr Knights said: "One lady in particular took some photos and was convinced that there was something on the photos that needed further explanation.
"I'm a bit of a sceptic but that may appeal to some people."