Coach driver escapes ban after Christmas Eve crash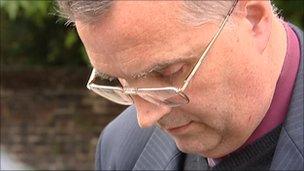 A driver at the wheel of a coach that overturned in Norfolk on Christmas Eve, injuring 19 elderly passengers, has been spared a driving ban.
Gerald Calver, 52, was driving the coach when it crashed on the A140 at Horsham St Faith, near Norwich.
Appearing before Norwich magistrates, Calver, of Glebe Way, Mendlesham, Suffolk admitted careless driving.
His licence was endorsed with six penalty points, and he was fined £375 with £85 costs and a £15 surcharge.
Calver had volunteered to work over the Christmas period, driving mostly elderly passengers on a "turkey and tinsel" break, the court heard.
He was driving 48 passengers back from Sheringham to the Holiday Inn at Norwich International Airport when the crash happened at about 1540 GMT, closing the road for six hours.
Five people were seriously injured in the crash.
The court heard Calver, who was not hurt, could not remember what happened in the crash but was taken to hospital where he was found to have a high temperature and flu.
His coach's tachograph showed he had been speeding earlier on the journey, but the court heard speed was not a factor in the crash, which happened at 12mph.
Magistrates heard Calver, who had driven for Mendlesham-based coach company Galloway Travel for 25 years, had two previous speeding convictions.
But he escaped a driving ban after pleading extreme hardship.
Calver told the court he had to care for his elderly father and his ex-partner's child with special needs.
David Cattermole, traffic manager for Galloway Travel, said Calver was a valued employee, but that he would have to sack him if he lost his driving licence.
Janet Evans-Jones, chairman of the bench, told Calver his offence had not been at the lower end of the scale, and that he had been speeding before the crash.
"You said you felt unwell but continued to drive," she told him.
Related Internet Links
The BBC is not responsible for the content of external sites.