Olympic torch goes on show in Norwich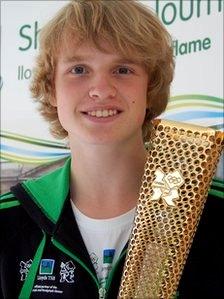 People in Norfolk will be able to get a sneak preview of the Olympic torch on Thursday.
A prototype of the gold-plated design has gone on display at a roadshow in Chapelfield Plain in Norwich.
The Olympic torch relay will pass through the city on 4 July 2012 in the build-up to the London Games.
"It would be brilliant for people to pop down and have the chance to hold the torch," said Norfolk torch ambassador Kaeti Newport.
"They can have their photo taken with it and meet our local hero Eddie Graver."
The 17-year-old pistol shooter, from Worlingham, hopes to take part in future Olympic events and will be watching competitors in his sport from the stands at London 2012.
Eddie, who is one of Britain's top three junior male pistol shooters, was aiming to share his enthusiasm about the international event with visitors to the Norwich stand.
"I'm going to be talking to people about the Olympic Games and hopefully getting them excited about it as it's getting nearer," he said.
Roadshow visitors are also being invited to nominate people who have made a difference to the local community to carry the torch.
Eight thousand people will hold the flame aloft as the Olympic torch relay passes through the country in a 70-day trip.
Copies of the 80cm tapering torch will be kept by each one of its bearers.
The tour will start on 19 May and end on 27 July when the flame will be used to ignite the cauldron at the opening ceremony.
The Olympic torch relay is also being used to showcase Britain's towns, areas of outstanding natural beauty and sporting and cultural landmarks.
The celebration will travel to Norwich from Peterborough before heading to Ipswich.
The roadshow will be in Norwich until 8pm on 14 July 2011.
Related Internet Links
The BBC is not responsible for the content of external sites.