King's Lynn supermarket sparks investment for food firm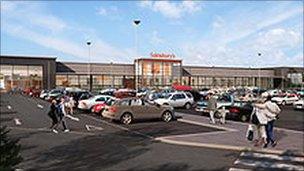 The decision to approve plans for a supermarket in a Norfolk town has led a neighbouring food plant to invest £10m expanding its operations.
Pinguin Lutosa, which will be based next to a new Sainsbury's in King's Lynn, promises more jobs with another £10m of expansion already lined up.
"We are very confident in the next year you'll see results," said the firm's managing director Peter Denolf.
He said the expansion would result in extra work for King's Lynn.
Sainsbury's was granted full permission to build a new store this week.
The planning process took 12 months to complete, which included purchasing 60 acres (0.24 sq km) of farmland to build a new link road into the Hardwick estate.
The company held off a rival bid from Tesco to build on the site.
Since the bid was confirmed in 2010, Pinguin Lutosa has moved all its UK technical and engineering activities into the King's Lynn headquarters.
It is the biggest frozen multi-vegetable processing plant in the UK, employing 340 people.
"We have already consolidated the activities in our main factory and extended the factory buildings," said Mr Denolf.
"We have invested in a pea line, root line, bean line and rice line. It will result in extra work for King's Lynn."
Further plans for investment include a test kitchen and cold store.
Related Internet Links
The BBC is not responsible for the content of external sites.