Ronan Parke releasing music 'this year' after Syco deal
By David Keller
BBC Norfolk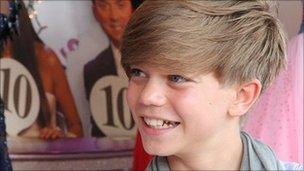 Fans of Britain's Got Talent star Ronan Parke are likely to hear his first tracks "this year" now that he has signed a major record deal.
The 12-year-old singer from Norfolk will release his first album under Simon Cowell's Syco label after coming second in the last ITV talent contest.
On Friday he was at a photo shoot in London for the debut record which is yet to have a track listing.
It has not yet been confirmed how much money the record deal is worth.
"It's really early stages - no name, no songs have been decided yet," said Ronan's mother Maggie.
"We haven't got any confirmed dates, but I imagine [music] will be out this year," she added.
Major retailers including Amazon have started taking pre-orders for the record with a UK release date of 5 September.
Ronan played his biggest concert to date last weekend at T4 On The Beach, after being introduced onto the stage by Britain's Got Talent judge David Hasselhoff.
He was given a warm reception for his rendition of Cee Lo Green's 'Forget You', on what his mother said was "the best day of his life."
"He had a great day, a really good response and he really enjoyed it," said Mrs Parke from Poringland, Norwich.
"All he's ever wanted to do is sing; he'll tell anybody that."
Despite already having hoards of young fans, the singer - who turns 13 in August - is keen to stay away from comparisons with Canadian star Justin Bieber.
"Ronan doesn't want to be compared to anybody because he wants to be himself, but obviously the success [Justin's] had is fantastic and Ronan would love to be as successful," said Mrs Parke.
Related Internet Links
The BBC is not responsible for the content of external sites.