Four new cycle paramedics trained for Great Yarmouth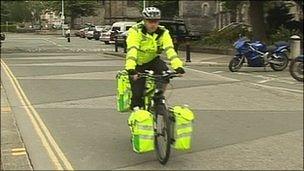 The East of England Ambulance Service is training four new recruits for the Waveney Cycle Response Unit.
The bike unit was formed in July 2010 and after a successful summer it was decided to keep them throughout the year rather than just seasonally.
A spokesperson for the unit said they have received 1,000 call-outs, of which 10 were thought to be life-saving.
After completing their training the paramedics will operate in the Great Yarmouth and Lowestoft areas.
Tim Hickey, head of the Waveney Cycle Response Unit, said: "It's surpassed our expectations, the bikes have both been really busy."
As well as training more cyclists, plans to investigate the possibility of employing paramedics on motorcycles are being drawn up.
Darren Maguire from the ambulance service said: "We're always looking at ways of better improving our response to patients.
"In certain scenarios just getting to that patient a couple of minutes earlier may make the difference between life and death."
Related Internet Links
The BBC is not responsible for the content of external sites.