RAF Marham supporters look to long-term aircraft answer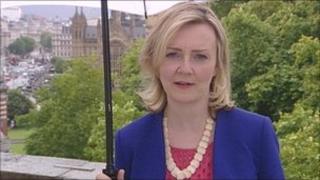 Supporters of RAF Marham in Norfolk are looking to secure the long-term future of the base with new aircraft following confirmation it would not be closed.
Defence Secretary Liam Fox stated on Monday the Tornado base would stay open. It had been put under threat by the government's defence review.
Campaigners including MP Elizabeth Truss hope Marham can be the home of the forthcoming Joint Strike Fighter.
The South West Norfolk MP said the Tornadoes could stop operating in 2020.
'Not the end'
"This is an important economic gain in the medium term, but we do want to protect the long-term future of RAF Marham as well," said the Conservative MP.
"One thing that was interesting was the minister said the decision on where the Joint Strike Fighter will be based is now wide open, and the case for RAF Marham is there to be made."
Ms Truss was delighted with Monday's decision, saying: "Norfolk's voice has been heard".
But she was keen to stress the Make it Marham campaign, backed by nearly 37,000 people including local political and business figures, should use that strength in the next campaign.
"What I want to see is the expertise of the Tornado focused in Marham and the Joint Strike Fighter, which is its successor aircraft, in due course," the MP said.
Norfolk County Council leader Derrick Murphy echoed Ms Truss's thoughts, saying, "this is the beginning of the campaign, not the end".
It is believed RAF Marham puts more than £130m into the Norfolk economy with 5,170 jobs dependant on the base's survival.