Caister-on-Sea sand-trapped girl rescue 'a miracle'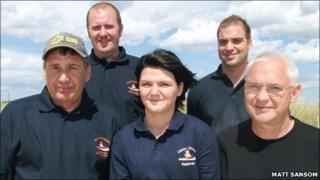 A father who saw his teenage daughter buried alive on a Norfolk beach said her survival is "a miracle".
Paige Anderson, 15, was trapped by up to 6ft (1.8m) of sand after a tunnel she was digging at Caister-on-Sea collapsed on Friday afternoon.
Emergency services "thought she was dead" after they pulled the girl out 15 minutes later.
But she regained consciousness and was discharged from hospital on Sunday with only minor injuries.
Miss Anderson and her older sister Jade were on holiday as they dug two holes in the sand on the beach near Great Yarmouth.
"It just started off as a bit of fun," said father Michael Anderson.
"They were digging a hole, jumping up and down, waving at each other."
As Paige attempted to go through a tunnel connecting the two holes, the sand around her collapsed burying her.
"All I remember is starting to get through it and then it all went black," said Miss Anderson, who lives with her family in Kent.
Emergency services including Caister Lifeboat were quickly at the scene after an alarm was raised.
After "frantic digging" and help from members of the public, enough of the teenager's head was eventually dug out of the sand so that she could be given an oxygen mask.
Paul Williams, coxswain of Caister Lifeboat, said seeing her alive and healthy 48 hours after the incident was "incredible".
"When I saw her two days ago she was purple-faced, like a rag doll, we just didn't think she was alive," he said.
Lucky escape
Tommy Williams, second coxswain of Caister Lifeboat said: "It was absolutely horrifying for us. We were very relieved when we got her out because it seemed to take ages because the suction of the sand pulling her down was so intense.
"Me and my father [Caister coxswain Paul Williams] tried pulling her out first and didn't succeed, but luckily enough a fireman came and we managed to pull her out with the fireman."
Miss Anderson, who was airlifted to the James Paget Hospital in Gorleston, passed on her regards to "everyone who helped" save her and aid recovery, including an elderly couple who sent a card to her at the hospital.
With the girl's lucky escape, Mr Anderson hopes that the well-publicised incident will make other parents think more about beach safety.
"We've all dug holes, we've all played on the beach and it will probably still all carry on," he said.
"If I can be so close to Paige and that happens, all I can say is, in future, as a rule of thumb, just don't let it go too deep for your children.
"I did and I nearly paid the price."