Power firm fined £300,000 for Diss worker's death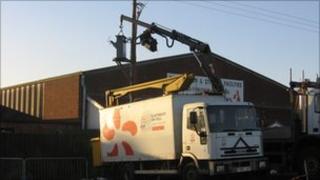 A power firm has been fined £300,000 with £219,352 costs after one of its engineers was killed while working on overheard power lines in Norfolk.
Jonathan Crosby, 45, of Dickleburgh died instantly after being hit by 8,000 volts of electricity while working in Sawmills Road, Diss.
Norwich Crown Court heard how UK Power Networks staff, formerly EDF Energy, had not been trained properly.
The company said by its guilty plea it acknowledged its responsibilities.
Fuses not removed
It said it had since revised its training programmes.
The Health and Safety Executive (HSE) which brought the prosecution said its investigation found that vital fuses supplying the transformer Mr Crosby was working on had not been removed to cut the electricity supply.
In a statement a company spokesman said: "UK Power Networks deeply regrets Jon's tragic death, which occurred in a work-related incident on 9 November, 2007.
"At his inquest in April 2010, the verdict was accidental death.
"We reiterate our condolences to Jon's family, friends and colleagues. He was well-liked and respected with more than 22 years' valued service."
'No room for error'
The company said after the accident in November 2007 immediate steps were taken to suspend working on live electrical equipment until the investigation had been completed and all staff involved in similar work had been retrained.
HSE inspector Toni Drury said: "A family man has lost his life in tragic circumstances which could have been avoided if essential safety measures had been put in place by UK Power Networks.
"This tragedy illustrates how dangerous work on or near overhead power lines is and it is imperative that employers ensure there are safe systems of work and that these are implemented and followed.
"There is no room for error when working with such high voltages."