Lithuanian sex slave's bid to escape Great Yarmouth trafficker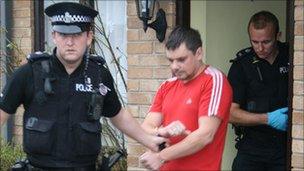 A Lithuanian sex slave who was the victim of a human trafficker made a cry for help to police by smashing the windows in her house.
The 19-year-old was under arrest in Great Yarmouth for criminal damage last August when she confided in police that she had been forced into prostitution.
On Wednesday, Nerijus Lekecinskas, 34, was sentenced to 11 years for controlling a person for prostitution, trafficking and rape.
Another man Skirmantas Kvedaras, 47, was jailed for six years for rape.
Det Ch Insp Rickie Botwright, who led the year-long inquiry and travelled to Lithuania as part of the investigation, said the teenager was a "typical victim of traffickers".
He believes she was targeted because of several desirable "business" factors. These included her poor education, scant life experience and the fact there would be a UK market for the pretty young girl.
She came from a small village where work was scarce and was followed for weeks by men pestering her to become a prostitute in England.
Her terrifying ordeal began in May 2010 when she was leaving the local police station in Lithuania with her boyfriend after reporting the men's behaviour.
They were both bundled into a van and taken to a house where she was bathed and given new clothes while her boyfriend was released.
The next day the girl - who could speak very little English - was put alone on a plane to Gatwick and told to carry a certain magazine through the airport so she could be spotted.
The abuse started straight away. She was taken to Luton and raped by two men before being collected by Lekecinskas, who raped her in a car park near Great Yarmouth.
"The first rape was about demonstrating control that he had over her and saying, 'I can do whatever I like to you when I like'," said Det Ch Insp Rickie Botwright.
During the victim's cross-examination at Norwich Crown Court, the defence questioned why she did not try to escape the prostitution racket's grip.
She was unaccompanied when she flew to the UK, had a mobile phone and lived in a house with other Lithuanians by the time she was found.
But Det Ch Insp Botwright said it was Lekecinskas' regime of threats which silenced the vulnerable teenager.
"Her motivation for staying was that she was absolutely terrified of what might happen to her family in Lithuania and her boyfriend," he said.
"She felt she was being watched every minute of the day.
"When she had an opportunity to go to another address in Great Yarmouth she chose to call Lekecinskas and tell him where she was."
The victim was taken to clients two to three times a week and at other times they would go to her, but she was so traumatised she could not tell police how many men she was forced to sleep with.
The girl is now doing "very well" after being relocated, but Det Ch Insp Botwright said he was worried that Lekecinskas could have more stranded victims now he is in prison.
"There are a number of enquiries which we still have open," he said.
"If I was to consider my job was done as Lekecinskas and co are in prison then it would be wrong."
Related Internet Links
The BBC is not responsible for the content of external sites.