Jim Davidson 'respects' Norwich Theatre Royal ban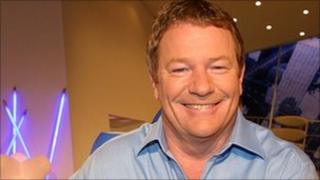 Jim Davidson has said he "respects" a Norwich theatre's decision to ban him from performing there after previously being "rude" to staff.
On Thursday the comedian posted an email from Norwich Theatre Royal on his blog explaining why he had been banned.
Theatre chief executive Peter Wilson told Davidson he had "publicly insulted" workers at a show in 2004.
In a radio debate on Friday morning Davidson admitted to Mr Wilson: "I wouldn't have me in my own theatre".
Speaking on BBC Radio Norfolk, both men concluded the decision to ban Davidson from the theatre would stand.
However, Mr Wilson said future performances would not be ruled out.
'Admire you'
In the radio debate, Mr Wilson told 57-year-old Davidson: "I really admire you as a comedian."
However, he said he remained concerned about points made in the after-show report from seven years ago about Davidson.
The report stated the comedian had been "very rude to staff. Arguments over figures, drinks etc, and personal comments that are not acceptable".
On Thursday, Davidson published the email sent to him by Mr Wilson, saying that explained why he had performed in Great Yarmouth but not Norwich on a recent tour.
The comedian said after publishing the email on his blog that the accusations by the theatre were "crazy" and "ridiculous" and it was just his "type of act" the chief executive did not like.