Marsh harriers tagged for new Hawk and Owl Trust study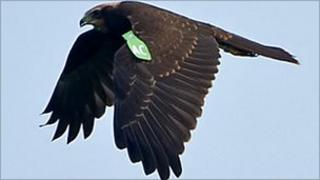 A study has been launched in Norfolk to find out where a rare bird of prey flies to each winter.
Marsh harriers that nest at Sculthorpe Moor Community Nature Reserve, near Fakenham, are being fitted with green identification tags.
So far 14 young birds have been tagged for the study by the Hawk and Owl Trust.
It is hoped it will reveal how far the birds migrate, if they return to where they've hatched and where they breed.
Nigel Middleton, the charity's conservation officer in the East, said: "Twenty years ago this study would not have been undertaken, no-one would have dreamed of approaching a marsh harrier nest because they were such a rare breeding bird.
"Although they are still very rare birds, the numbers of marsh harriers now breeding in Norfolk means we are in a better position to study this bird and have been given permission by Natural England."
Marsh harriers are believed to head south in winter, but in recent years many have been seen around the north Norfolk coast and Broads.
Members of the public who spot a tagged marsh harrier are being asked to email the trust with the date, time and its location and if possible the reference on its tag.