Norwich Castle titillated by Big C chain of bras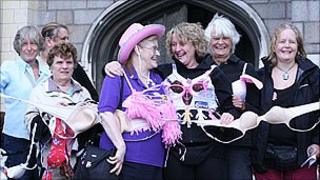 A Norwich landmark dating back 900 years has been circled by bras to raise money for a cancer charity.
A chain of more than 1,000 bras has been wrapped around Norwich Castle to help make people aware of the illness.
It is the second year that the independent charity Big C has staged the eye-catching Link Up Your C Cup day at the museum.
Women have been donating their lingerie and filling the cups with money.
Lesley Cologne, the charity's community fundraising manager, said she was delighted by the number of contributed bras which will then be sorted through and put on sale in its shops.
She said: "We have completed one circle and we might even manage another - we have another three trolley loads to put up."
Event volunteer Karen Batterbee, 50, from Hempnall near Norwich, was diagnosed in 2009 with breast cancer which has since spread to her liver.
The former auxiliary nurse, who uses the Big C support centre at the Norfolk and Norwich University Hospital, said the event had helped her remain positive.
"Cancer is serious but we can have some fun and with this kind of support we can keep the centre there for the people of Norfolk so anyone who needs help can get it," she said.