St George's Theatre receives £250,000 grant to re-open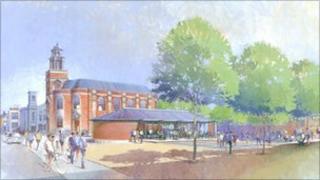 A historic Norfolk theatre is due to re-open to the public next spring after receiving a grant to complete repairs.
St George's Theatre in Great Yarmouth is receiving £250,000 from English Heritage towards its renovation.
It means the Grade I-listed building will be taken off the English Heritage register next year when it opens as an arts centre.
Barry Stone, of Great Yarmouth Borough Council, said: "It's great that it's going to be brought back into use."
He added: "It's very important as it's one of our main Grade I buildings in Great Yarmouth. It's one that's been at risk for quite a long time."
The money will pay for a new lead roof and repairs to brickwork, stonework and joinery. It is part of a £3.9m project to regenerate the building.
A pavilion is also being built outside the former chapel to house a box office, cafe and bar.
It is hoped the arts centre, which will hold up to 300 people, will attract major touring productions and be used by local arts groups and bands.
The landmark building on King Street was constructed in 1714 as a sister chapel to the town's St Nicholas' Church.
It was converted to an amateur dramatics theatre in the 1970s, but closed in 2006 after a large lump of the tower fell off and the building was found to be unstable.
Once the revamp has been completed, owners Great Yarmouth Borough Council will lease the building to the reformed St George's Theatre Trust to be chaired by Peter Wilson from Norwich Theatre Royal.
Money for the project has also come from the Heritage Lottery Fund, East of England Development Agency, Seachange, Norfolk County Council and Great Yarmouth Borough Council.