Warren Goring jailed over shopping channel debts killing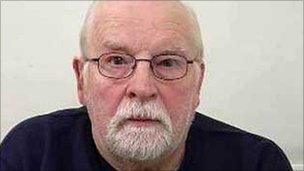 A man from Norfolk who strangled his wife after a row about debts built up through a TV shopping channel has been jailed for six-and-a-half years.
Warren Goring, 67, admitted manslaughter and was cleared of murder by a jury at Chelmsford Crown Court.
Goring was given an eviction notice over £3,000 rent arrears the night before Shirley Goring was found dead at their home in Mundesley.
The court heard much of their debt was from £10,000 of women's jewellery.
Prosecutor Oliver Glasgow said the couple were "broke, living beyond their means and facing bankruptcy" when Mrs Goring's body was found by a bailiff on 18 February.
Goring had retired from his role as a Crown Prosecution Service (CPS) manager and the pair had lived off his pension since his retirement in 2008.
Mr Glasgow added: "He attacked her while she sat in their bed and brutally strangled her to death.
"The reason would appear to be the couple's poor finances or, if Warren Goring is to be believed, he didn't like the way his wife spoke to him when she spoke about their money."
Goring, who worked for CPS Norfolk for 26 years, most recently as a business manager, was arrested by police searching for his car near King's Lynn hours after his wife's body was found.
Mr Glasgow said Goring had driven the couple's dog to Chesterfield so a friend could look after it.
In his police interview, Goring said he had no recollection of the killing but accepted he had "flipped".
Tim Brown, in mitigation, said: "The life of Shirley Goring was a precious one to Warren Goring, they had been married for more than 40 years, he loved her and he still loves her.
"She met her death at his hands and the knowledge and burden of that will be with Mr Goring for his existence and that burden is incalculable.
"Any sentence imposed by a court, whilst not irrelevant, bears no relation to the fact he must find a way of living with himself."
He added that Goring had been under severe stress at the time of the killing.
Judge Charles Gratwicke said: "It is clear from her injuries that she desperately tried to fight you off but to no avail."
He said he accepted that the pair had a "long and happy" marriage, adding: "It is clear that your love for her remains undiminished."
Related Internet Links
The BBC is not responsible for the content of external sites.