Norfolk freezer murder landlord Michael Tucker's sentence cut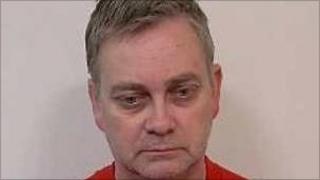 A Norfolk pub landlord who shot his partner in the head and hid her body in a freezer has had his minimum tariff cut on appeal.
Michael Tucker, 50, was convicted of the murder of Rebecca Thorpe at Norwich Crown Court in May and sentenced to life, to serve at least 26 years.
He put her body in a freezer at The Compasses, Snettisham, in March 2010.
On Wednesday, three judges at the Court of Appeal reduced the sentence by four years and said 26 years was "too high".
They agreed the sentence was usually reserved for drive-by killers and gangland gunmen.
At his trial, Tucker, who suffered from alcohol dependency syndrome, admitted killing 28-year-old Miss Thorpe but denied murder on the grounds of provocation.
The jury rejected his claims and found him guilty.
'Jealous suspicions'
The Court of Appeal heard the couple's relationship became strained after the pub struggled to make money and he began to believe she was seeing another man.
Lord Justice Pill said Miss Thorpe taunted Tucker about his jealous suspicions when she was taking a bath in the flat at the pub.
He took a shotgun kept in the pub and shot her in the back of the head, leaving her body in the bath for about two days afterwards.
He later wrapped the body in a sheet and hid it in a freezer in a shed outside for at least 10 days, the judge said.
Tucker tried to act normally after the killing and started a relationship with another woman but he later panicked and ran off to the Isle of Wight, from where he wrote letters to police and his new partner, confessing to his crime and disclosing the location of the body.
Karim Khalil QC, for Tucker, said the sentencing judge had wrongly lumped the offence in with those involving "public executions" such as those carried out by gangs.
He argued that the minimum term should be cut considering Tucker's mitigation and the fact he eventually helped in the recovery of the body.
Lord Justice Pill, sitting with Mr Justice Foskett and Judge Charles Wide QC, ruled the judge had overestimated the aggravating features of the murder.