Breckland Council could introduce parking charges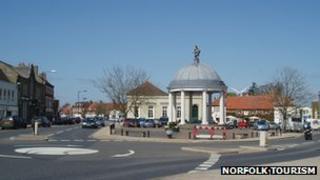 Breckland Council has revealed it could start charging for parking in its market towns in a bid to save £3.5m over the next five years.
The authority is set to carry out a feasibility study on introducing the fees across its 28 car parks.
The announcement comes a day after retail guru Mary Portas said more free parking could help boost high streets.
Council chief executive Terry Huggins said her report also showed where charging is supporting retail centres.
Motorists in Thetford, Dereham, Watton, Swaffham and Attleborough currently benefit from free parking. It costs the council around £300,000 a year to run.
"There is no such thing as free car parking - rather the issue is who should pay the cost? The general taxpayer or the car user?" said Mr Huggins.
"It is a coincidence that this investigation is occurring at the same time as Mary Portas has produced her report on the high street."
Ms Portas' report for government on the decline of town centres said the growth of online and out-of-town shopping has left many areas "dying".
Speaking about the report, Mr Huggins added: "In the report, she points to good examples of charging by Swindon and Chester where charging structures have been used to support the retail town centre.
"She also talks of transparency of car park charges and how the income is used, which is a principal that Breckland would support as part of its own core values."