Sandringham remains find: Woman 'aged between 15 and 23'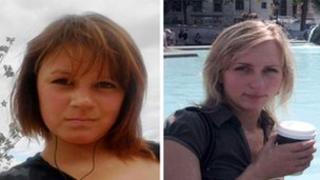 A woman found dead on the Queen's Sandringham Estate is thought to have been aged between 15 and 23.
The remains were found by a dog walker in Anmer, near King's Lynn, Norfolk, on 1 January.
Police are treating it as murder and are looking at cold cases including the disappearance of Alisa Dmitrijeva, 17, from Wisbech, Cambridgeshire.
They will use "traditional methods" of identifying the victim after they could not establish a DNA profile.
A Norfolk police spokeswoman said: "The body is described as a young, white, adult female, aged between 15 and 23 years old, which has been at that site for a period estimated to be between a month and up to four months."
Police said officers were examining cold cases across the UK for potential links.
Further searches
Officers confirmed the disappearance of Latvia-born Miss Dmitrijeva was among the cases being investigated in relation to the find.
Other files examined included the disappearance of Vitalija Baliutaviciene, 29, from Peterborough.
Both women went missing in August.
Detectives said it was "highly unlikely" the woman found on the estate died through natural causes.
There was no evidence of accidental injury, damage due to firearms or bladed weapon, officers said.
Further searches of the area around the site, off Kings Avenue, are continuing.
The body was found in a wooded area on farmland at the 20,000-acre (8,000 hectare) royal estate.
The Queen and the Duke of Edinburgh, along with the Earl and Countess of Wessex, have been staying on the Sandringham Estate.
Buckingham Palace would not comment on the discovery earlier, saying it was a "matter for Norfolk Police".