Police finish search of Sandringham Estate in murder probe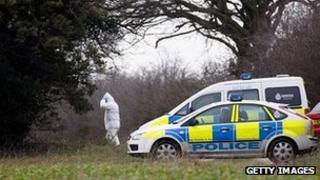 Police have finished a search of the Queen's Sandringham Estate in Norfolk where the body of a young woman was found.
The remains of the woman, said to be aged between 15 to 23, were found by a dog walker in Anmer, near King's Lynn, on New Year's Day.
A series of forensic tests are being carried out to identify the woman.
Detectives do not believe the victim died of natural causes and are treating the case as murder.
Experts have so far struggled to obtain a useable DNA profile to identify the woman from tooth and muscle samples.
Insect specialist
The plan now is to carry out a more detailed analysis on bone ground into a powder which it is hoped will give a definite identification by Monday.
The woman is said to be white, between 5ft 4in (1.6m) and 5ft 6in tall with high cheek bones.
Officers have carried out a detailed search of a wooded area on farmland at the 20,000-acre (8,000 hectare) royal estate.
An entomologist - a specialist in insects - from the Natural History Museum, visited the estate on Friday to help discover how long the body had been at the site.
So far detectives can only say the body has been there from no earlier than August last year.
It is hoped the specialist can give a more accurate timing through their knowledge of the life cycles of the different insects found at the scene.
Det Ch Insp Jes Fry said: "We have made a substantial amount of progress in this investigation. The identity of the victim, once we have that information, will also make a significant difference to the enquiry."
Officers have started examining cold cases across the UK for potential links.
There was no evidence of accidental injury, damage due to firearms or a bladed weapon, police have said.