Great Yarmouth Town Football Club unveils new sponsor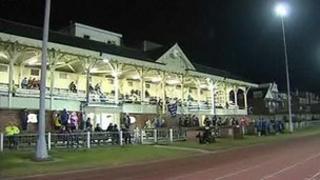 A new sponsor has stepped in and pledged to help clear the debts of a Norfolk football club.
Mike Smith, director of Norfolk offshore support firm Derrick Services Ltd, has guaranteed a one-year cash injection at Great Yarmouth Town FC.
He said this could be extended by a further two years depending on results and match attendances.
The club is facing debts of between £1,000 and £5,000, a committee member said.
Great Yarmouth Town, who play at The Wellesley on Sandown Road, has faced numerous problems on and off the pitch, with poor match results and attendances of less than 100 people.
The Bloaters are bottom of the Ridgeons League Premier Division having lost 21 out of 26 matches.
Its former chairman and committee member Arthur Fisk revealed last week the amount of debt the club faced and said the board had been "neglectful" in the way it previously run the business.
'More supporters'
A campaign has been set up by the team's supporters to try to raise money for the club.
Club chairman Colin Jones said the new sponsor, who was unveiled at a general meeting on Tuesday night, had put forward a "very decent financial package for the club" and was confident it could secure the extra two years funding to "stabilise" the business.
Mr Smith from Derrick Services said the sponsorship was an opportunity to "rebuild the foundations" of the club.
"The existing debts, as I understand them, are not that significant and I believe they can be cleared relatively quickly," he said.
"What we need to do is achieve a regular income for the club so it can pay its way on a weekly basis."
Shaun Turner, chief executive of Norfolk FA, believed the money could help the club revive itself.
"If the energy from the meeting is portrayed through the town, hopefully there will be more supporters come to the games, which will bring in revenue," he said.
The football club, founded in 1897, claims to have the oldest surviving football stand in the world, being opened as a grandstand for other sports events in 1892.