Cromer Town football club's wrangle after king's death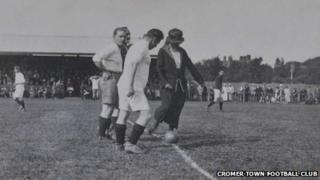 It is a bizarre legal wrangle that has seen the future of an amateur Norfolk football club thrown into doubt by the death of a Norwegian monarch in 1991.
Cromer Town Football Club was bequeathed its Cabbell Park ground in 1922 by rich local landowner Evelyn Bond-Cabbell.
But a clause stipulated that the lease would expire 21 years after the death of King Edward VII's final descendant.
When his grandchild, Norway's King Olav V, died on 17 January 1991, it was thought the countdown had begun.
But even after that deadline passed on Tuesday, the club's future is still no clearer after the saga took a new twist.
Genealogy checks
Legal experts have suggested the Anglian Combination Premier Division side could have the right to remain at its current home until 2032.
Paul Jarvis, club chairman, said genealogy checks indicated George Lascelles, the 7th Earl of Harewood, was the final descendant of the king.
He died in July last year - but even his status as a descendant is far from clear cut.
Lawyers are looking into whether the agreement covered the monarch's wider family. The 7th earl was one of the king's great grandchildren.
It is also thought the earl needed to be alive at the time the agreement was made - he was born months after Mrs Bond-Cabbell bequeathed the land in 1922.
Mr Jarvis said: "This agreement was signed in 1922 and George Lascelles was born in 1923.
"But because he was in the womb at the time, our advice is that he was a legal being at the time and is therefore the final descendant."
However, another barrister has thrown doubt on that theory, prompting further debate.
Mr Jarvis stressed the club was not at "loggerheads" with anyone over the matter.
The trust agreement is managed by five people including Mrs Bond-Cabbell's great grandson - current North Norfolk district councillor Benjamin Cabbell Manners.
The lease states the land should remain as public open space but be given to the local authority after the deadline has passed.
It is unclear why the clause was included.
Post-war concerns
Mr Cabbell Manners said there was no suggestion the matter could result in court action.
"I'm hopeful that an amicable plan that helps everybody can be agreed," he said.
Mr Jarvis, who estimates the club has spent about £3,000 on legal advice, said he hoped a conclusion could be reached within months.
"No-one is at loggerheads over this," he said. "We're all trying to work together.
"It's just a case that no-one wants to do anything that could breach the lease or break any laws."
The club, formed in 1884 and known as The Crabs after the local delicacy, attracts average match attendances of about 150.
Talks have been held over possible alternative sites, including one out of town, but Mr Jarvis said the club wanted to remain at its current home.
Mrs Bond-Cabbell, who was aged in her 90s when she died in 1954, left the four-acre (1.6 hectare) site and money to the local community after World War I after becoming concerned about the plight of men returning to Norfolk.
She also funded the building of Cromer Hospital, where many of the returning soldiers gained work.
Mr Cabbell Manners said: "My great grandmother's view was to make a community asset to be used by as many people as possible.
"My role is to make sure this continues."
He said he did not want to comment on whether he wanted the football club to remain at its current home.
Philip Burton, chief executive of the council, said: "This is a complex issue involving a number of different interests.
"The district council is working with everyone involved to try to bring the matter to an amicable conclusion."