Norfolk Wildlife Trust: Appeal to buy heathland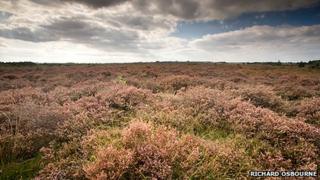 An appeal has been launched to raise more than £500,000 to safeguard the future of rare heathland in Norfolk.
The Norfolk Wildlife Trust (NWT) needs to raise the money to buy 95 acres (38 hectares) of land next to Roydon Common near King's Lynn.
Warden Bill Boyd said: "The land is a crucial buffer to one of Roydon's rarest and most fragile habitats".
The land has been secured at auction but the trust needs to raise £530,000 by March to conclude the purchase.
Chief executive Brendan Joyce said: "NWT faced stiff competition to buy the land and we now urgently need to raise the funds to complete the purchase.
"Our teams are working to raise funds from grants but we need support from local people.
"I am appealing to everyone in Norfolk to help us to ensure protection for rare heathland wildlife and habitat."
The UK contains about 20% of Europe's lowland heath. In Norfolk more than 80% of the county's heathland has disappeared since the 19th Century.
NWT Roydon Common is the largest surviving open heath in west Norfolk.
A highly protected site it is home to some of the county's rarest wildlife including the black darter, a species of dragonfly found at only two sites in East Anglia.
According to Mr Joyce, failing to raise the cash leaves the trust with two choices - to pull out or raid their reserves.
He said: "The land is too important for the first to be an option we want to seriously contemplate, therefore we would resort to the second.
"Inevitably this has a knock on effect. This is funding we will not have for the future and is obviously not a decision we would take lightly."