Norfolk snow: 'Extreme care' warning on roads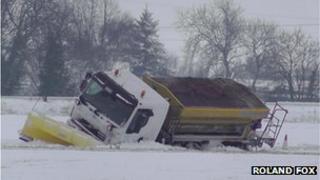 Heavy snowfall in Norfolk has made some roads only passable with extreme care.
The Met Office has warned there will be icy patches on untreated roads by Sunday night, with temperatures plummeting to -4C.
Travel disruption is expected and motorists are advised to only make essential journeys.
Norwich Airport re-opened at 14:00 GMT on Sunday. Passengers are urged to check with their airline for the latest travel information.
Bus company Norfolk Green said roads in and out of King's Lynn were only passable with extreme care, on Sunday, with out-of=-town bus routes suspended.
Konnect buses, which runs routes between Norwich and Dereham, ran a normal service on Sunday.
Gritters are expected to be out on the county's roads.
The Queen and Duke of Edinburgh attended a church service in West Newton, Sandringham, on the eve of her Diamond Jubilee.
The Royal couple walked through the snow to the church door, but the 90-year-old Duke did not then attend a Royal British Legion parade in King's Lynn, which was cancelled due to the icy weather.