Norfolk County Council confirms 360 job losses in budget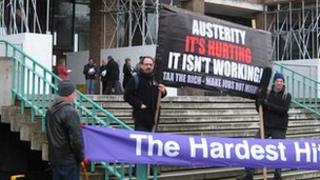 A £44m cuts package to Norfolk County Council services has received the full backing of the council, confirming 360 jobs will be lost at the authority.
Councillors agreed the £595m revenue budget for 2012-13 earlier at County Hall, Norwich, by 43 votes to 17.
Campaigners against the proposals staged a small protest outside.
Council leader Derrick Murphy has said the budget is to "redesign services". The latest savings form the second year of a three-year £155m cuts plan.
The confirmed job losses at the council are in addition to 443 people who lost their jobs at the Conservative-controlled council in 2011-12, as part of a £60m budget cut.
'Opposite effect'
Mr Murphy said when the budget was announced in January that most of this year's planned redundancies would occur in council's two biggest spending areas - children's and community services.
The budget for 2012-13 however will also see a council tax freeze and £43m worth of investment, including more funding for roads, apprenticeships and services for children in care.
Ed Bober, from Norfolk Coalition Against the Cuts, said service cuts at the council were drastic and would have the "opposite effect of what's intended".
"By turning people out of work they're actually increasing the level of unemployment, which is reducing the amount of tax revenue going into the coffers of the Treasury, and it's increasing the burden of unemployment benefit," said Mr Bober.