'Killer whale' sighted off Norfolk coast at Sheringham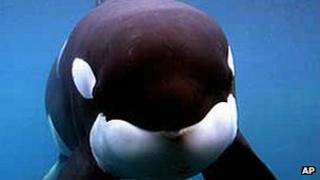 Reports that a killer whale has been sighted off the Norfolk coast have been described as "highly reliable" by an expert on mammals.
County mammal recorder Dr David Leech said claims of a whale sighting by birdwatchers at Sheringham could be the first ever recorded in Norfolk.
The experience of one observer meant there was good cause to believe the sighting was reliable.
Possible reasons for the whale's presence are food or it was off course.
Birdwatcher Giles Dunmore, who has experience spotting several killer whales around the world, recorded the sighting last Thursday morning while scanning for sea birds with friend Phil Vines.
He said the pair's field notes and sketches were currently being collated to pass on to the Norfolk Biological Information Service (NBIS), at County Hall, to confirm the identity of the wandering whale.
'Good food sources'
Dr Leech, who is based at the British Trust for Ornithology (BTO) in Thetford, said: "[Killer whales] do have quite a distinctive dorsal fin. Some of the dolphins can be much harder to tell apart and some of the whales too.
"With that and the experience of the observer and knowing that they had good optical kit, because they were using telescopes to watch the birds, I think in combination that sounds like a really quite a reliable source."
Dr Leech said NBIS had yet to record a killer whale sighting from Norfolk in its history, which dates back to the early 1900s.
He said he believed the whale could have been drawn to the north Norfolk coast because of its "good food sources", such as seals and other marine life, but it was just as likely it had wandered off course.
He added they had received no other sightings, meaning the likelihood of a pod of whales in the area was quite small.
"Whales, dolphins and porpoises are relatively infrequently seen in the southern half of the North Sea in the English Channel, because it's really quite shallow and most of them prefer deeper water," said Dr Leech.
"We've had about 14 species of cetacean seen over the years off Norfolk - most of them very rarely - only harbour porpoises are seen quite frequently.
"Killer whales have been recorded this far south - not off the Norfolk coast. They're much more likely to be seen somewhere off the Shetland Islands for instance in the northern North Sea."
Mr Dunmore, 68, who has been a local birdwatcher for 56 years and spotted killer whales off Tenerife and Alaska, said he was "quite thrilled" to make the spot.
"It was a long way out, but I could see it was a big cetacean. I yelled out to Phil 'I'm certain it's an orca'," he said.
"At the time I didn't know it was a new cetacean. You see it at the time, but the excitement doesn't come until a little later."