Protesters dismantle Occupy Norwich camp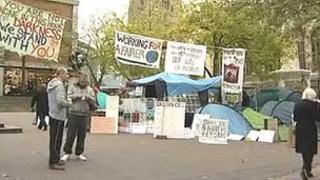 Anti-capitalist protesters have started dismantling the Occupy Norwich camp after the local council was granted an order to repossess the land at Hay Hill.
Occupy Norwich began on 15 October as an offshoot to the worldwide Occupy movement.
Norwich City Council applied to the county court and made a request for a warrant to take back the land.
Protesters said they had made their point at Hay Hill.
Simeon Jackson, one of the original protesters, said the Occupy Norwich campaign would continue.
"The movement has achieved something through the camp, but I am happy we are now taking it down," he said.
"We will continue to take action, not necessarily through occupations. We want to keep up the conversation, the forum for debate."
A spokesman for Norwich City Council said: "This afternoon the court granted the city council a possession order to repossess the land on Hay Hill.
"Following the court's ruling we made a request for a warrant to take back possession of the land.
"These matters continue to be part of an ongoing legal process but we hope that, in light of the court ruling, the protesters vacate the site.
"As before, we can offer assistance to the protesters to help clear the site if necessary."