Wymondham Asda plan: Town council's U-turn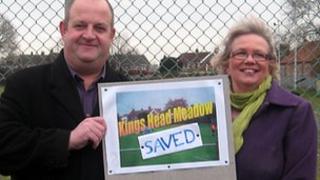 Plans to build an Asda supermarket in a Norfolk town have been rejected in a U-turn by town councillors.
They voted unanimously on Tuesday not to sell land at King's Head Meadow, in Wymondham, for the 23,000 sq ft (2136.8 sq m) store.
In September, they had approved the development which would have meant moving Wymondham Football Club.
One campaigners opposed to the plan said: "It's a very pleasant sudden turn but not something we were expecting."
Around 200 people attended the meeting at Ketts Park Community Centre.
The plans were met with opposition from some residents and members of the Wymondham Asks Why (WAW) action group who argued the meadow was a "much used and much-loved area".
Asda 'disappointed'
Diane Fernee, town councillor and supporter of WAW, said: "I think one of the main things we want to see is the King's Head Meadow secure forever."
If the plans had gone ahead, Asda had promised new premises for the football club and other enhancements to Ketts Park.
A spokesman for Asda said the firm had received letters from 500 residents in support of their plans, following a public consultation in January.
"We are clearly disappointed at Wymondham Town Council's decision to rescind its' support for the development of the Kings Head Meadow site," he said.
"Our proposal to bring an Asda foodstore to the town would have created 200 local jobs and brought a real boost to the town's economy.
"We feel this is a missed opportunity for Wymondham but respect the decision the council has made."
The town council has yet to comment on Tuesday's decision.