King's Lynn incinerator: Natural England lifts concerns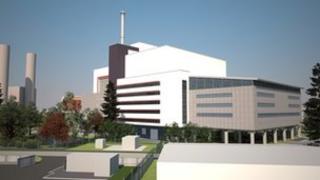 A second environmental body in two days has removed its objections to plans for a waste incinerator in Norfolk.
Natural England said it has now revoked concerns about acid being deposited into conservation areas around the proposed plant at King's Lynn.
It said the developer had amended some of its plans to satisfy criteria.
On Tuesday, the Environment Agency lifted its final planning objection to the site at Saddlebow by withdrawing concerns about flooding.
In a letter to Norfolk County Council, Natural England said it had received more information about the incinerator from developer Cory Wheelabrator and after the firm altered some of its plans, was able to remove its objections.
Initially it was felt the incinerator could harm wildlife, including invertebrates and shellfish.
'Not unexpected'
The £500m Willows Power and Recycling Centre was approved by Norfolk County Council in March 2011, but it has faced heavy criticism from two borough councils, some Norfolk MPs and residents.
Cory Wheelabrator said the incinerator would save the county council taxpayer £200m and divert 250,000 tonnes of waste away from landfill.
Environment Secretary Caroline Spelman awarded the plant £91m of private finance (PFI) credits in January.
King's Lynn Borough Council, which opposes the burner, is seeking a judicial review of the funding.
Mike Knights, from the Farmers' Campaign against the incinerator, said Natural England's altered stance was a "disappointment", but "not unexpected".
"Once the Environment Agency obediently withdrew their objection we did not feel confident Natural England would hold out much longer," he said.
"This proposal has much more to do with big money and vested interests than offering a responsible waste treatment."