Hammerton Court dementia care unit opens in Norwich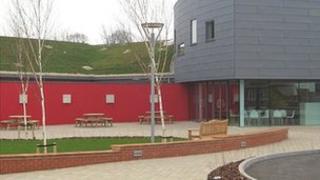 A £13m dementia care unit has been officially opened in Norwich.
Hammerton Court, next to the Julian Hospital on Bowthorpe Road, hopes to "radically redesign and improve" treatment of the syndrome in Norfolk, according to the NHS.
The 36-room building is the largest single investment in dementia care in the county and contains "assisted technology" to monitor patients.
The new facility was opened by the Lord Mayor of Norwich, Jenny Lay.
Norfolk and Suffolk NHS Foundation Trust said each bedroom contains gadgets that allow patients to be independent, with light sensors in the bathrooms and automatic water switch-off systems.
'Captured imaginations'
Technology will also allow nurses and carers to see when patients are out of their beds from outside of the rooms, giving them greater privacy.
Maggie Wheeler, chair of Norfolk and Suffolk NHS Foundation Trust, said: "We are immensely proud of Hammerton Court and excited about the significant role it will play in providing care for people with dementia in Norfolk.
"From the outset this project has captured people's imaginations and I am sure this will continue once the building is open, allowing friends, family, carers, patients and staff to support the changing dementia care ethos."
Hammerton Court will also be the hub for the Norfolk and Suffolk Dementia Alliance and be used for research, training and education.
The NHS predicts that more than 20,000 people in Norfolk aged 65 and over will have a form of dementia by 2025.