Man killed at Herbie Hide's home in Norwich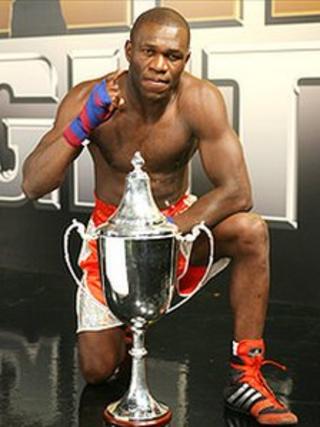 A man was fatally stabbed during a private party at the Norwich home of former world heavyweight boxer Herbie Hide, police have said.
Officers were called to Long Lane, Bawburgh, at 00:07 GMT after reports that a man, thought to be in his 20s, had been assaulted.
He was pronounced dead at the scene at 00:45. A murder inquiry has started.
Police said the stabbing followed an argument or dispute. More than 100 people were at the party at the time.
Det Supt Julian Gregory, of the joint Norfolk and Suffolk Major Investigation Team, said police were "fairly certain" Mr Hide was not on the premises at the time of the stabbing.
"He may have been there during the course of the evening, we are not sure, but at the time of the incident we think he was elsewhere," he said.
Crowded party
"We understand that there was some kind of argument and dispute, obviously as the investigation progresses that will become clearer, but the stabbing took place in a crowded party in front of a number of people."
Police are still investigating where in the house the stabbing took place. Mr Gregory said there was a pool bar area where a number of people had congregated.
Mr Gregory added: "We would say to the person responsible for the stabbing 'there are a lot of witnesses, we will get to you so please come forward and speak to us as soon as possible'."
Mr Hide and his family have relocated while investigations at the house continue.
A cordon is in place as crime scene investigators examine the site. Officers spent the night speaking to witnesses.
Mr Gregory said: "We are in the early stages of our investigation and working to establish the sequence of events which led to this man's death.
"We are also in the process of confirming the victim's identity, and police family liaison officers have been assigned to work with next of kin.
"A large number of people are known to have been present at the property at the time and while we continue our efforts to identify and speak to all partygoers, I would urge anyone who left the scene before speaking to police to contact Norfolk Constabulary as soon as possible on 101."
Mr Hide won the WBO (World Boxing Organisation) heavyweight title for the first time in 1994, beating American Michael Bentt, but lost it to another American, Riddick Bowe, the following year.
He regained the title in 1997 and made two successful defences before losing to Vitali Klitschko in 1999.